Sky+ Recording Without Subscription
Question: I have a Sky+ box and get the free channels, but I can't record. How can I use Sky+ to record?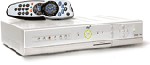 Sky+ is a service offered by Sky Digital. It allows you to record TV programmes onto the hard drive built in to Sky+ and Sky+ HD boxes.
If you subscribe to Sky and have a Sky+ or Sky+ HD box, then the Sky+ service is free. If you don't subscribe to any Sky TV channels, then you will need to take out a Sky+ Subscription to be able to use the record and playback facilities on the Sky+ box.
At the time of writing, a Sky+ subscription is free to those subscribing to any Sky TV package, otherwise it's £10 a month to those that don't subscribe to a Sky package.
Question: Why should I have to pay to use my Sky box after I cancel my Sky contract?
This is a pretty common practice in many fields these days… whilst you remain a loyal customer, you get a service for free, but once you cancel your contract, that service is not longer available. Other examples:
Free email addresses and web space from your broadband provider (deleted when you cancel)
Free voicemail and mobile Internet services on your phone (not available when you cancel)
A free modem or router that can't be used if you move Internet provider
Sky's not alone in restricting use of hardware after you cancel. If you cancel BT Vision, the BT Vision V+ box can no longer record, and if you cancel Virgin Media, the on demand services and TiVo functionality no longer work
The Sky box will still be able to get the free Sky channels, and you'll be able to record them on a connected DVD or video recorder – it's just the Sky+ recording and playback services that will be unavailable after you cancel.
Question: How do I get a Sky+ subscription?
If you have a Sky+ or Sky+ HD box, and subscribe to any of the Sky channel packages, then your Sky+ subscription will be free, and available on your Sky viewing card.
If your Sky+ service isn't working, or you need to take out a Sky+ subscription, call Sky Customer Services on 08442 414 141.
Don't want to pay for Sky+?
If you only want to watch free-to-view satellite TV channels and you want to be able to record and pause TV without paying a subscription, then you should consider getting a Freesat PVR – these allow you to record the Freesat channels onto a built-in hard disk, and support features like series link, live pause and rewind.
Our favourite Freesat hard-disk recorder is the Humax Foxsat HDR, pictured here. This holds up to 200 hours of satellite TV and also supports HD. There's no subscription.
For a list of Freesat Recorders, see: UK Freesat Box List